Overview
Revolution Ranch is one of the largest certified organic farms in Canada. It is a shining example of environmental sustainability. There, we perform organic alchemy and turn food into more food!

Revolution Ranch
Sitting on 700 acres of agricultural land, we converted one of the oldest farms in British Columbia into a 21st century marvel. We eliminated all pesticides and chemical fertilizers. We dramatically improved productivity and output per acre. We also produce commodities that are consumed by certified organic farmers across British Columbia and Northwest United States.
At the heart of our process is the largest, most environmentally sound organic composting facility anywhere. We are fully approved and designed to handle all manner of food scraps and yard trimmings. But perhaps most importantly, we DO NOT receive any biosolids or other contaminated inputs.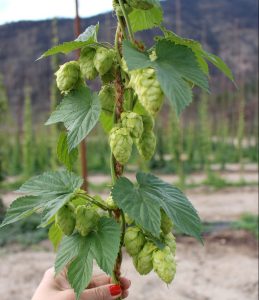 Only the Best Compost
We produce a high-quality Class A compost to a quality that is recognized as an appropriate and acceptable input for certified organic farming. We grow certified organic alfalfa to feed cattle and cows that produce certified organic beef and dairy products. We also produce certified organic hops as an ingredient in beer production.
Our Ranch sits at the pinnacle of the food pyramid. After going through all the trouble you do to separate your food scraps, isn't this the type of treatment they deserve?
Very impressed with the service and value.
We have recently switched over to Revolution Resources Recovery for all waste streams in one of our locations and are very impressed with the service and value we are receiving.  Since switching over, we have had to change some of our services and I have had the pleasure of working with their Customer Service rep, Kayla F in making these changes.  Kayla has been so helpful and courteous and her professional service has made for a fabulous and seamless transition.
James Ellis
Great services and pricing!
Great services and pricing!  The Sales Consultant has done a great job in consolidating all the services we need for different locations under one fantastic group package and save us a big sum.  Their Customer Service team are also very helpful too!
Clara Cheng
I highly recommend them.
I have been working with Mark and his team at Revolution Resource Recovery for over a decade, and I highly recommend them. Their bins are kept exceptionally clean and the service is second to none. I know first-hand that they give back to the community through various programs and initiatives and they are always willing to work around a business's specific needs.
Waste removal and disposal has become a hot topic and is very important, and Revolution Resource Recovery has implemented standards that are second to none. Whether you are looking for a waste management company for the first time, or are considering changing from your existing one, I highly recommend giving Revolution Resource Recovery a call before looking elsewhere.
Teri James